Doctors & Staff
Meet the experienced and friendly doctors and staff who make Grand Blanc Vision Clinic the leading provider of vision care products and services in Grand Blanc.
---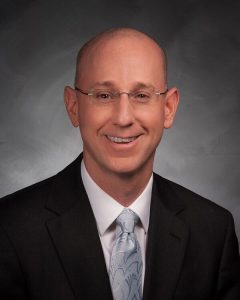 Eric L. Schweihofer, O.D., F.A.A.O.
Dr. Eric Schweihofer is the only Residency-trained and Fellowship-trained optometrist in Southeastern Michigan. He brings experiences to our staff unlike any other optometrist. A native of St. Clair, Michigan, Eric graduated from the Michigan College of Optometry at FSU in 1998. He then elected to pursue an additional year of training at The Eye Institute of Pennsylvania College of Optometry. There he studied under specialists in Glaucoma, Retinal Disease, Neuro-Optometry, Pediatrics, and Emergency. He then completed a teaching fellowship at the School of Optometry in the Netherlands. This was followed by a year on faculty at the University of Auckland School of Optometry in New Zealand where he was a clinical instructor. Upon returning to the United States he moved to Grand Blanc to be close to family and friends.
Honors and Awards
2007 Kiwanian of the Year – Grand Blanc Kiwanis
2002 Fellow of the American Academy of Optometry.
Fellowship is granted to a select few optometrists after completing a rigorous application process and passing an oral examination by the Academy's regional board.
1998 Daniel Peterson Memorial Outstanding Senior Award.
Recognizes the graduate of the Michigan College of Optometry that has made the greatest contribution his or her class and school community.
1998 George Holcomb Memorial Scholarship.
Awarded to the graduate of the Michigan College of Optometry that is most likely to contribute to educational advancement of the profession of optometry.
1997 Student Leader of the Year.
Awarded the Michigan College of Optometry student that demonstrates the greatest overall leadership ability and contribution to student and professional life.
1997 Ciba Contact Lens Clinical Excellence Scholarship.
1997 American Foundation of Vision Awareness –Michigan Chapter Annual Scholarship.
Offices Held
Continuing Education Chair of the Michigan Optometric Association 2009- present
Secretary of Kiwanis Club of Grand Blanc 2007
Trustee of the American Optometric Student Association.
Publications
Type II Optic Tract Syndrome Secondary to Arteriovenous Malformation of the Brain. Poster presentation American Academy of Optometry 1999.
Lectures/Presentations
2001 New Zealand College of Optometrists Spring Educational. Gonioscopy workshop.
As an Optometric Educator, Dr. Schweihofer has lectured on numerous disease states of the eye, pharmacology, and diagnostic procedures.
Email: drschweihofer@grandblancvision.com
---
Daniel L. Markley, O.D.
In our Grand Blanc and Fenton offices
Dr. Daniel Markley brings to Grand Blanc a unique and extensive background in optometric experience/training. He is one of the few Residency trained optometrists practicing in this area.
Hailing from Coldwater, Michigan, Daniel is a 1998 graduate of the Michigan College of Optometry at Ferris State University. After a year of working along side an eye surgeon, he decided to pursue a year of additional training in the detection and management of ocular disease. This Residency training was completed at The Eye Institute in Philadelphia, Pennsylvania. The Eye Institute is one of the most highly recognized and well- respected optometric teaching facilities in the world. While there, Daniel trained under specialists in glaucoma, retinal disease, neuro-optometry, emergency care, pediatric and geriatric optometry. Following this extensive training, Daniel accepted a position on faculty at the University of Auckland School of Optometry in New Zealand. Here, he served as a clinical instructor for optometry students, as well as, lectured on the subject of eye disease. Following an August 2002 wedding, Daniel and his wife, Ann, settled in the Grand Blanc area to begin his career in private practice optometry.
Honors and Awards
2002 Certificate of Completion for Primary Care Residency Training from The Eye Institute at The Pennsylvania College of Optometry.
1997 Outstanding Extern Award, United States Air Force (Eglin Air Force Base, Florida)
Past Offices Held
President of Michigan Chapter of SVOSH (Student Volunteer Optometric Services to Humanity), a service organization dedicated to the preservation of sight and distribution of eyeglasses to impoverished nations. In 1997, Daniel helped to organize a humanitarian mission to the island nation of St. Lucia, where several thousand pairs of donated eyeglasses were distributed to those who would not otherwise have access to eyecare.
---
Allison B. Middleton, O.D., F.A.A.O.
In our Grand Blanc and Holly offices
Dr. Allison Middleton was born and raised in Grand Blanc and attended Grand Blanc Community High School. In 2010, she graduated with honors from Michigan State University. Following completion of internships at the Aleda Lutz Veteran's Administration Hospital, Heart of the City Vision Clinic and Henry Ford Optimeyes, she graduated with distinction from the Michigan College of Optometry in May of 2014. After completion of her education, she elected to pursue an extra year of training through an Ocular Disease and Primary Care residency at the Veteran's Administration hospital in Fort Wayne, IN. This allowed her to perform rewarding work with veterans, as well as gain extensive experience in the area of ocular disease.
While in optometry school, Dr. Middleton was active in a number of professional organizations including the American Optometric Association, American Optometric Student Association, Michigan Optometric Association, Michigan Optometric Student Association, and Beta Sigma Kappa International Optometric Honor Society.  She is a lifetime Girl Scout and enjoys volunteering as her niece's Girl Scout troop leader. After earning her Fellowship of the American Academy of Optometry she took a position on the FAAO Admissions Committee. She volunteers her time to evaluate and give feedback on FAAO candidate case reports, posters, and publications and interview the candidates at the annual Academy of Optometry conference.
Past positions held :
Beta Sigma Kappa International Optometric Honor Society member
Michigan College of Optometry student ambassador
Lobbyist at the American Optometric Association Political Action Committee Congressional Advocacy Conference in Washington DC
President of the Pre-Optometry club at Michigan State University
Community service activities:
Ocular Workshop for St. Francis Physician's Assistant students
Opening Eyes at Special Olympics Michigan
Relay for Life
Children's Vision Day– Grand Rapids Children's Museum
Currently a leader for a local Girl Scout Troop
Lectures / Presentations:
Purtscher's-Like Retinopathy– Fort Wayne VA continuing education lecture
OptociliaryShunt Vessels – Fort Wayne VA continuing education lecture
Retinal ArterialMacroaneurysms – Fort Wayne VA continuing education lecture
ParacentralAcute Middle Maculopathy – Fort Wayne VA continuing education lecture
BirdshotChorioretinopathy: A longitudinal case study – American Academy of Optometry, poster presentation; Denver, CO ; November 2014
Dr. Middleton is thrilled to be back in Grand Blanc, and looks forward to providing exceptional eye care to the community.
E-mail: drmiddleton@grandblancvision.com
---
James E. Owen, O.D., F.A.A.O. (Retired)
I would like to take this opportunity to announce my retirement, effective July 1, 2010. My optometric career spanned 45 years and has exceeded my expectations in so many ways. Much of the happiness in my career can be directly attributed to loyal patients such as yourself. It has been an honor to have been your eye care provider these past years. I truly appreciate the trust you have placed in me in safeguarding your vision. Rest assured, it was a responsibility I never took lightly.
Some of you may know that I have considered retirement before. Those plans were always put on hold for various reasons. Grand Blanc Vision Clinic has been my life's work. It's never easy to step away from something to which one is so devoted. That being said, I know with certainty that now is the right time to retire. I feel that the current team of doctors assembled is the very best in the area. Without a doubt, Grand Blanc Vision Clinic will continue on with the same core principle upon which it was founded 45 years ago: excellent patient care above all else.
Thank you again for your loyalty over the years. It has been my privilege to get to know you and to take care of your eyes. I wish you only the best in years to come.
---
Technicians
Anne
Andriana
Sam
McKenzie
Alex
---
Optical
Deb
Roxanne
Paula
Stacy
Alyssa
Jordan
Elyse
Amy
---
Patient Representatives
Emily
---
Insurance/Billing
Ashley
Amanda
---
Office Manager
Julie
---